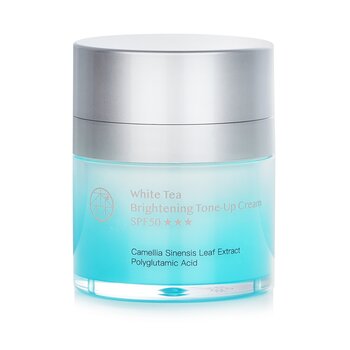 mori beauty by Natural Beauty White Tea Brightening Tone-Up Cream SPF 50 30ml/1.01oz
Product Introduction:
A multi-purpose tone-up cream specially developed for Oriental women
Botanical-based, skin-friendly formula gives no burden to skin
3-in-1 formula: isolation, sun protection & tone-up
Based on White Tea - White tea is harvested in early spring, without being fermented and oxidized. Its polyphenol and caffeine content is higher than that of green tea and black tea, which can effectively soothe and revitalize skin. Mori Beauty carefully selects the essence of white tea, which contains flavonoids, caffeine and rich green tea polyphenols (catechins), which can effectively condition and improve rough skin, delay skin aging, strengthen the skin barrier and moisturize for a long time.
γ-PGA forms an invisible mask to prevent moisture loss- γ-PGA will form a protective film on the face after absorption, like an invisible mask, which helps to moisturize for a long time and soothe dryness and discomfort caused by external stimuli. Ceramide rebuilds the skin barrier and relieves dry and sensitive skin - the inner water-locking technology of the special ceramide, and the double moisturizing properties of the outer layer of γ-PGA and Hyaluronic Acid, among which "polyglutamic acid γ-PGA", extracted from natto bacteria fermentation, the main component of the sticky substance of natto, pure plant extracts, improve skin's natural moisturizing factor (NMF), while locking skin's moisture.
SPF50+ ultra-high protection - Effectively blocks UVA and UVB, and immediately forms a thin protective layer with one touch
Purpose:
Lightens spots and dullness, corrects uneven skin tone, brightens skin with zero powder feeling, offers complete protection all day
How To Use:
After the skincare product, take an appropriate amount and apply evenly to the face, massage until absorbed.

加入購物車
百分之百正品保障
30天無條件退款保障. 如果該商品有任何問題,請與我們聯繫,我們保證給您一個滿意的解決辦法.
全場免費送貨

香港:香港郵政2-3天。
中国大陆: 包裹送往罗湖口岸清关,之后由顺风或中通快递送货. 5天左右。
新加坡:由speedpost投遞,5-10天送達
台灣, 澳門, 馬來西亞:商品由國際貨運公司轉運,到達台灣清關後由台灣郵政投遞,7-14天。

我们接受PayPal和信用卡付款。信用卡付款也是由PayPal处理,安全可靠。我们是看不见您的信用卡信息的,请放心购物。您的购物由PayPal提供保障,如果您收不到商品,可以向PayPal申请退款。
我們也可以接受銀行轉帳。如果您需要通過銀行轉帳付款,請聯繫我們, 我們有匯豐銀行戶口
中國大陸客戶也可以通過支付寶付款,請聯繫我們。