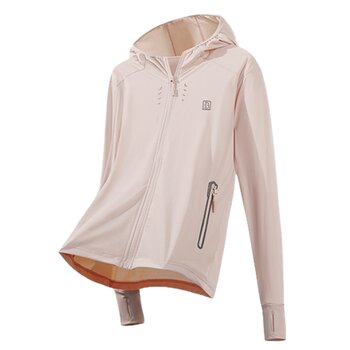 ONE BOY Sun Protection (UPF 50+) Cooling Functional Jacket for Ladies L
Color : Rose Orange (refer to product photo)
Size : L
Keeping Up with ONE BOY!
For new concepts of daily wear
UPF 50+ high-efficiency sun protection, tested by SGS to have UPF50+ high-efficiency sun protection, provides permanent and effective defense against ultraviolet rays, extending the time your skin is protected from sunburn. The material is moisture-wicking, quick-drying, and cooling function. Even in hot and humid summer days, it can keep you dry and non-sticky.
Product features:
-UPF 50+ sun protection
-Instant cooling sensation and refreshing
-Lowering the perceived temperature
-Breathable and comfortable
-Soft and skin-friendly
-High elasticity & stretchability fabric
-Safety reflective design Material : 76% Polyamide Fiber, 24% Elastic Fiber
Made in China
Washing Instructions :
-Do not tumble dry.
-Do not use bleach-containing laundry products.
-Recommend to hand wash. Dark and light-colored garments should be washed separately.
-The washing water temperature must not exceed 30 degrees Celsius.

加入購物車
百分之百正品保障
30天無條件退款保障. 如果該商品有任何問題,請與我們聯繫,我們保證給您一個滿意的解決辦法.
全場免費送貨

香港:香港郵政2-3天。
中国大陆: 包裹送往罗湖口岸清关,之后由顺风或中通快递送货. 5天左右。
新加坡:由speedpost投遞,5-10天送達
台灣, 澳門, 馬來西亞:商品由國際貨運公司轉運,到達台灣清關後由台灣郵政投遞,7-14天。
| | |
| --- | --- |
| Barcode/UPC | 33187543171 |
| Category | Mart |
| Brand | ONE BOY |
| Product Line | |
| Size | L |

我们接受PayPal和信用卡付款。信用卡付款也是由PayPal处理,安全可靠。我们是看不见您的信用卡信息的,请放心购物。您的购物由PayPal提供保障,如果您收不到商品,可以向PayPal申请退款。
我們也可以接受銀行轉帳。如果您需要通過銀行轉帳付款,請聯繫我們, 我們有匯豐銀行戶口
中國大陸客戶也可以通過支付寶付款,請聯繫我們。