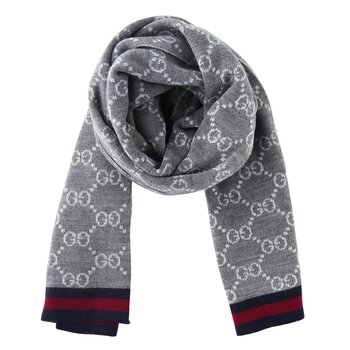 Gucci Unisex Guccissima Scarf 325806 Grey
'* Product Description
* Parallel Import
* Colour : Grey
*Material : Reversible 100% Wool
* Dimensions: 23*180 cm (L*W)
'-GG Monogram
- Made in Italy * Reminder:
The size of the product is measured manually, and the error of 1-3 cm is within the normal range and should not be regarded as a quality problem
*Color deviation may occur between the picture and the actual product
Care label: Keep in room temperature, Do not expose to sunlight, Dry Clean Only With Professional
Materials and Care
- products are made with carefully selected materials. Please handle with care for longer product life.
- Protect from direct light, heat and rain.

加入購物車
百分之百正品保障
30天無條件退款保障. 如果該商品有任何問題,請與我們聯繫,我們保證給您一個滿意的解決辦法.
全場免費送貨

香港:香港郵政2-3天。
中国大陆: 包裹送往罗湖口岸清关,之后由顺风或中通快递送货. 5天左右。
新加坡:由speedpost投遞,5-10天送達
台灣, 澳門, 馬來西亞:商品由國際貨運公司轉運,到達台灣清關後由台灣郵政投遞,7-14天。
| | |
| --- | --- |
| Barcode/UPC | 33260033871 |
| Category | Mart |
| Brand | Gucci |
| Product Line | |
| Size | Grey |

我们接受PayPal和信用卡付款。信用卡付款也是由PayPal处理,安全可靠。我们是看不见您的信用卡信息的,请放心购物。您的购物由PayPal提供保障,如果您收不到商品,可以向PayPal申请退款。
我們也可以接受銀行轉帳。如果您需要通過銀行轉帳付款,請聯繫我們, 我們有匯豐銀行戶口
中國大陸客戶也可以通過支付寶付款,請聯繫我們。